JOCA press release for president change
12 August 2013

NPO Japan Organic Cotton Association (JOCA) office
302 Sakumichi Bldg, 29 Daikyo-cho, Shinjuku-ku, Tokyo 160-0015 Japan
Since 2000 when NPO Japan Organic Cotton Association has reorganized
from predecessor Japan Texas Organic Cotton Association, Mr. Akira Hibi
has been working for 12 years as president and will be 80 years old this
year, he decided to resign his post to make way for his successor.
Hereafter, he will be advising to management of JOCA as a board member,
and will educate his professional knowledge and experience of cotton to
young people in Japanese cotton industries.
Mr. Akira Hibi has been working for Japan Cotton Promotion Institute for
many years as an executive director to promote cotton and cotton products,
and to diffuse basic knowledge of cotton in Japanese market. He has well
balanced knowledge related to the wide range of cotton such as history of
Gossypium origin, difference of planting variety and area, environmental
impact of cotton farming etc… and is expected to guide and educate not
only organic cotton people but also all of cotton industries as an excellent
leader hereafter.
Profile of Mr. Akira Hibi: Born 1933 in Aichi prefecture. Graduated 1956
from Keio University Faculty of Economics, joined Japan Spinner's
Association survey department and concurrently work for Japan Cotton
Promotion Institute which was established same year in charge of planning
and management.
After the post of executive director in JCPI, concurrently director of JSA in
charge of Nagoya and Tokyo office, he retired in 2000. During this term he
has written and published "Career of Cotton" for staff education,
"Why Cotton?" for professional and supervised "Cotton Video Series".
He has taken charge of editing JCPI's house organ "Cotton Promotion"
for long term.
After his retirement from JCPI, he assumed office as the first president of
Japan Organic Cotton Association which was reorganized in the same year.
He has participated in the workshop of the Intercot Conference 2002 in
Düsseldorf (Germany), which was launched to establish International
Working Group of Global Organic Textile Standard. Since then JOCA has
been recognized internationally as one of the four organizations of
International Working Group on Global Organic Textile Standard.
Also he has an international human network of cotton as he was an advisor
of Cotton Council International, and is called "Mr. Cotton in Japan" from
around the world. He is leading Japanese cotton industries widely from
conventional to organic with his extensive knowledge, gentle manner
and noble personality during almost half of century. He is also working
for a sport organization for intellectual disabled people, Special Olympics
Japan Hyogo as Vice Chairman.
Furthermore, director Kazuhiko Mori was elected to the president of JOCA
after the resigning of Mr. Akira Hibi at the board meeting on 25 April
2013 and was appointed.
For further detail, refer to
http://www.joca.gr.jp/
Mr. Kazuhiko Mori is remaining at the post of GOTS Technical Committee
member concurrently and working for GOTS version 4.0 revision processes
for some time.
Contact: JOCA office, Makiko Kawamura, Miwa Tsuchiya
NPO Japan organic Cotton Association
302 Sakumichi Bldg, 29 Daikyo-cho, Shinjuku-ku, Tokyo 160-0015 Japan
Tel & Fax +81-3-3341-7200、E-mail: office@joca.gr.jp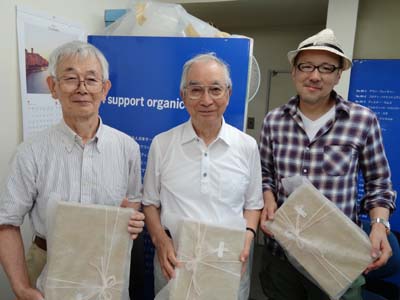 The photo is retired three with each memento, from left side Norifumi Makuuchi (director to advisor), Akira Hibi (president to director) and Hiroyasu Kume (director to advisor).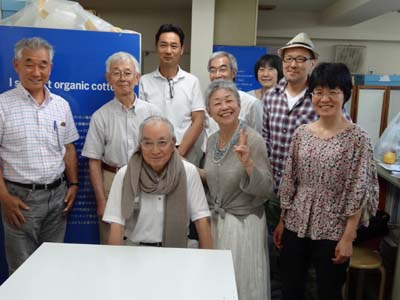 In the photo, center in front row is Akira Hibi with memento, special muffler, right to next Chieko Watanabe vice-president JOCA, right end is Mutsumi Sakuyoshi advisor, center in back row is Akira Kimura, new director from last year, left end is Kazuhiko Mori new president.
---------------------------------------------------------